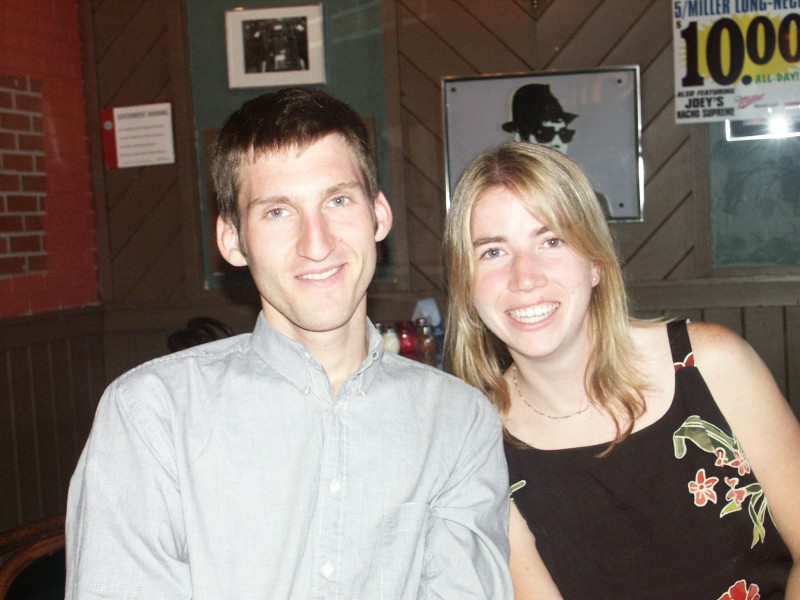 Emily and Paul met in January of 2001 on an outing with the UC Berkeley cycling team. Paul had been in grad school for two years with the physics department and was new both to cycling and to the team. Emily had started at Cal as a PhD student in the department of school psychology the previous fall, but had already been an avid bike racer since her undergraduate days at Northwestern University.
The outing was a team "training camp" to Santa Cruz, just under a two hours drive south, where the experienced racers, like Emily, would teach the new "kids," like Paul, how to sprint, time-trial, and climb on a road bike. Paul naively tried racing in a criterium the week before and ended up on the pavement with several bruises, bumps, and scrapes—so he was pretty motivated, if only after the fact, to learn how to race bikes safely and skillfully.
Oddly enough, Paul had quickly gained a reputation for being introverted and lacking many apparent social graces—for example, he often would pedal too hard on easy team rides instead of talking and getting to know his teammates. Gabe Moy, one of the team "ride shepherds" had grown tired of chasing down errant "sheep" on these team-building rides and amused himself by contriving a social experiment: he arranged for Paul to carpool with Emily, who is very outgoing and quick with conversation, to Santa Cruz. If anyone could get through Paul's hard head, it would be Emily—who also happened to be Gabe's housemate
Emily tested the waters by introducing herself when Paul picked her and another teammate up in his car. She followed up with what she was doing in grad school at Cal, how long she'd been racing bikes, and how long she'd been a member of Cal Cycling. Paul mostly fiddled with the radio and focused on driving.
"Hmm. A tough nut to crack," she thought.
She told him how she majored in psychology at Northwestern University, played clarinet in the marching band, and was from a small town in northwest Illinois. He eased a little and responded with how he grew up in Baltimore, majored in math and physics at the University of Maryland, and played guitar in a high school rock band. Quick to point out his extensive knowledge of Emily's home state, he added that his current girlfriend was from Springfield and he had recently visited there and found it to be a charming, genteel little town. Paul, in turn, learned that Emily's town of Freeport was also charming and even genteel, but otherwise had not much else in common with a "big city" like Springfield.
While Paul, a life-long coastal urban dweller, quietly contemplated just how small and remote the town of Freeport must be for a local to refer to Springfield as a "big city," Emily smiled slightly to herself and noted that he was starting to show some signs of a personality.
Over the course of the 2001 spring racing season, Paul opened up quite a bit, became more involved with the cycling team, and became good friends with Emily, along with many others. Unfortunately, Emily suffered a horrendous bike crash in the fall—shattering the bones in her forearm requiring endless months of surgery, rehabilitation, and an agonizingly slow healing process.
She returned to bike racing a year later in a more administrative role—as the chief event organizer of 2003 Collegiate National Road Bike Championships held in Berkeley. This was a monumental task and diversion for a busy graduate student presiding over an orchestration of 400 racers, stubborn university and municipal bureaucracies, and a $50,000+ budget. Paul stuck to a less formidable task—he helped design the route for the team time-trial and was on the four-person men's team that won the event. For the Cal Cycling team, it ended up being their second of three consecutive national title victories.
In the fall of 2003, Emily started training again as well as became vice-president of the team. Paul and Emily each settled into statesmanlike figurehead roles on Cal Cycling as well as each entered into the second-half of their graduate studies. Coincidentally, they both were single.
About the Bride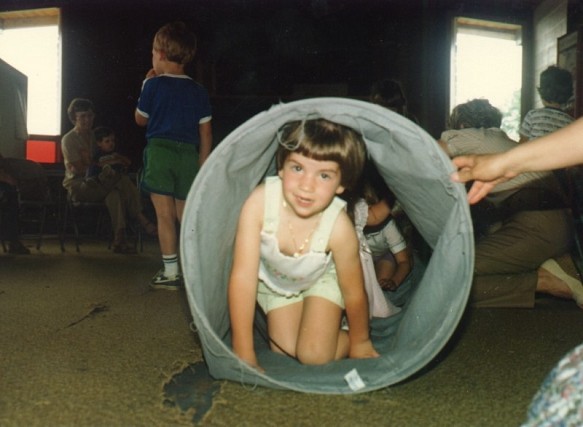 Emily Dale, born in May of 1978, is the second oldest of six children of Dick and Betsy Dale. She has one older sister, Stephanie (also the Maid of Honor), a younger brother, George, who is followed by three younger sisters, Becca, Tricia, and Mary. She is from Freeport, Illinois, home of the Pretzels. Emily's mom teaches kindergarten in the nearest "big city," Rockford, at a school serving a very disadvantaged neighborhood. Dick is an engineer and marketing manager specializing in switches.
After graduating at the top of her class from high school, Emily headed to the Windy City to attend Northwestern University. Emily was very involved in music during her time at NU. She joined the women's professional music fraternity Sigma Alpha Iota; her junior year she put on a benefit swing dance as the Philanthropy Chair, and her senior year was the Vice President of Membership and recruited more new members than ever before. She was honored to receive the highest honor award at graduation for a leader in the northern Illinois province of SAI.
Having left organized sports, Emily was still working out but more individually. A friend in the marching band happened to be housemates with the president of the cycling team, who called her and convinced her to come on a ride. Despite a tough first race in the rain at Purdue, Emily was quickly hooked (and as they say, the rest is history. If it hadn't been for the friend of a friend you wouldn't be reading this right now). Her senior year the team qualified for the National Championships. They went for fun, and then were shocked to find out that they were actually doing quite well after the first day of racing. Emily was inspired by the news, and fueled by a huge birthday cookie helped her team to a 2nd place finish in Division II.
When Emily entered NU, she had dreams of being a medical researcher and plans to major in biology. She soon realized she needed more of a people-oriented field. She started taking various classes, and settled on a psychology major with a minor in religion because she found the classes interesting. When choosing a graduate school, she wanted to get out of the Midwest, which in the end landed her at UC-Berkeley. She entered a PhD program in School Psychology, a field she stumbled upon when researching possible careers during her panic over the future the summer before her senior year. School psychology is a mix of developmental, clinical, and educational psychology. Basically, when a child is having trouble in school, the school psychologist is consulted to help figure out the cause and how to help the child. This may lead to the child being assessed by the school psychologist to help determine eligibility for Special Education services.
Emily is currently working three days/week as a school psychologist in an area middle school (you only need a master's degree to work) and is enjoying finally making more money monthly than she spends, as are her parents. She is working on her dissertation study and is looking forward to graduating.
About the Groom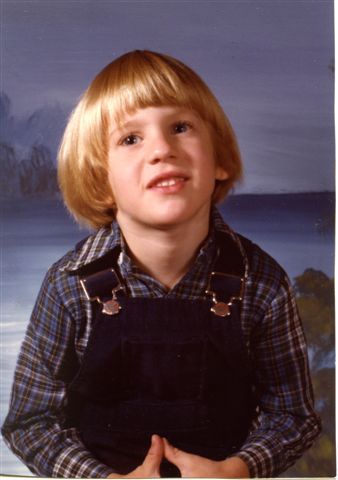 Paul Reichardt was born in January of 1975 and was raised in Baltimore by William and Judith Reichardt, along with his siblings Peter, Becky, and Carrie. Bill Reichardt, the father of the groom, was a video technician for Maryland Public Television before retirement. He now does freelance engineering work at Fort Meade, located between Baltimore and Washington, as well as at Baltimore Gas Electric. Judy, the late mother of the groom, was a registered nurse at Kernan Hospital in Baltimore. She succumbed to breast cancer in April of 1996.
Paul went to college at the University of Maryland, Baltimore County majoring in physics and math. Being the outdoorsy type, he enthusiastically came out west for graduate school after graduating in 1998. He is currently finishing up a PhD from UC Berkeley in experimental low temperature condensed matter physics. Paul's thesis describes how he and coworkers made very tiny circuits out of thin films of aluminum and watched them behave when they are just a whisker above absolute zero temperature. Their behavior and dynamics depart from that of the physics of planets, cannonballs, and TV sets and act more like atoms, electrons, and sub-atomic particles. The goal is to have these circuits mimic, but in this different way, those tiny transistors that represent and compute with the 1's and 0's in the main microchip of your Dell laptop in what would be called a quantum computer. For certain types of computational functions, like breaking codes or searching large databases, a quantum computer would be hugely faster than and superior to a regular computer. Being able to make relatively large objects, for example, electrical circuits which are visible to the naked eye, that behave according to the strange laws of quantum mechanics has been a goal in physics for almost eighty years or so. Many groups are working on it in many different ways.
After graduating, Paul will pursue postdoctoral studies in a similar field before, most likely, entering the industrial world of nanotechnology as a researcher. This field of manipulating and controlling materials on a molecular scale has just started to take off in the last 5-10 years and will very likely be a dominant area of science, engineering, and technological innovation for decades to come. The pursuit of Paul's employment and the existence of reasonable property values will be the determining factors of where Emily and Paul will relocate to when they leave Berkeley to start a family.
Paul continues to race road bicycles as a hobby when he's not in lab. He started riding in 2000 to get in shape, joined the UC Berkeley collegiate team in 2001, and became one of the team leaders several years later. He now rides for a prominent Bay Area racing organization, Team Spine, and specializes in stage races. He hopes to make it to the highest amateur-racing category before leaving behind the 400-mile training weeks and hanging up the bike shorts for good.
About the Cat (yeah, like we could forget to mention Ella)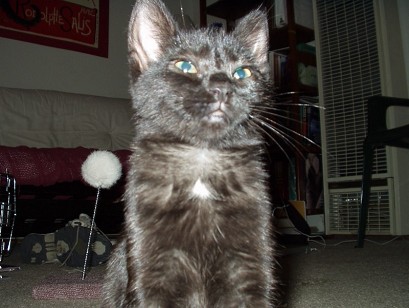 OK, she's just a cat—she pretty much just sleeps, eats, and purrs—but she looks cute doing it, we think. Ella is about a year old. She came into our possession thanks to a rescue operation by her "Aunt Mary," a veterinary student at UC Davis, who will be a bridesmaid in the wedding.